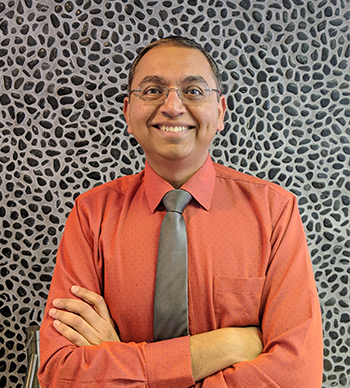 Dr. Pushpak Patel was born and brought up in Rajkot on the west coast of India. He moved to United States in 2003. Dr. Patel currently lives in North Andover with his beautiful wife, Bhavisha (also a Dentist) and adorable 3 year old daughter, Riya.
Dr. Patel started his training in dentistry at Government Dental School in Jamnagar, India. He worked for three years in a general dental practice in his home town. From the start, patients appreciated his demeanor of comfort and competence treating those in need. Due to his love of patient and colleague interactions he pursued further education, welcoming every available continuing education opportunity to further develop his skills.
When opportunities for increasing his knowledge and clinical skills were exhausted, Dr Patel decided to travel to the United States to seek further training and, thereby, advance his career. During his years of dental practice in India he had practiced all aspects of dentistry, except Orthodontics. Consequently, when he came to Dallas-Texas, he immediately sought out a position as an Orthodontic Assistant.
Orthodontics opened a whole new world to Dr Patel in which he learned an entirely new perspective of the Specialty. He discovered that dento-facial problems are some of the most significant dental problems the next generation will struggle with; an even bigger problem than dental caries.
He also learned that a competent Orthodontist must be a master diagnostician, actually seeing problems before they are manifested clinically. He came to appreciate that prevention is the hallmark of the field. This really piqued his interest and love for the field of Orthodontics. Eighteen months of experience as an Orthodontic assistant was invaluable to him. He was convinced that he had to have further training in the field of Orthodontics.
Dr Patel went on to receive his DMD with High Honors from the Goldman School of Dental Medicine at Boston University. Following dental school, he completed his Orthodontic Residency at University of Detroit Mercy, Detroit MI and earned his Certificate in Orthodontics and Master of Science. In 2010 he became a proud Board Certified Member of the American Board of Orthodontics. He decided to settle in Boston and make Boston his home. It is in the Boston area that Dr Patel has furthered his appreciation of the field, practicing as an Orthodontist and realizing the rewards of treating patients with a wealth of knowledge and a warm, compassionate demeanor.